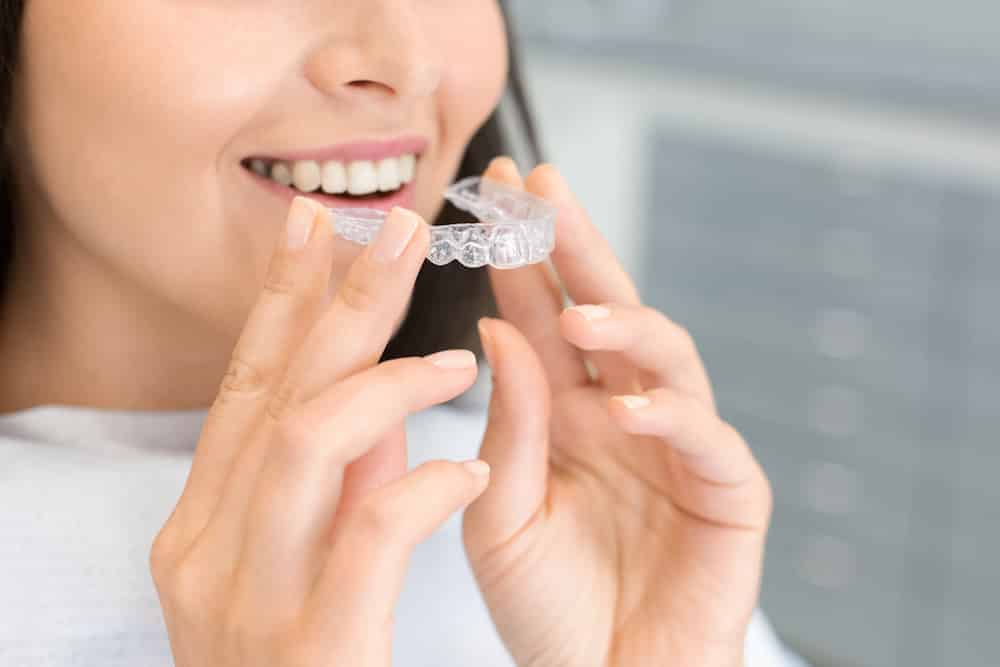 If you need corrective measures for crooked or crowded teeth, you might assume that braces are the only answer. Not so. Invisalign is another option being considered by teens and adults alike. So, what is Invisalign, and how does it differ from traditional braces? 
Invisalign corrects dental problems by using a set of hard plastic aligners fitted to your teeth. These aligners work much like braces, guiding your teeth into their proper position. Unlike braces, they are practically invisible, making them a popular choice for many patients.
The Benefits of Invisalign
Invisalign offers several advantages that may make them the right choice for you, including:
Comfort
Traditional braces make use of brackets and wires that can irritate the mouth. Invisalign is like wearing a mouthguard and has no sharp edges that might cause scrapes or cuts.
More Attractive
While wearers of braces may no longer encounter as much teasing as in the past, many still feel self-conscious about having the visible metal brackets on their teeth. Invisalign is clear and difficult to spot, allowing the wearer to smile confidently, making it a popular choice among adults.
Convenience
Invisalign has become widely available as a standard method for straightening teeth. It needs fewer office visits than braces, which require the wires and rubber bands to be tightened regularly. When you begin your Invisalign treatment, you will receive aligner trays for your current phase, as well as the next several phases, meaning you can progress to the next phase without another office visit.
Can Be Removed
 Unlike traditional braces, Invisalign can be removed when you are eating, brushing, or flossing. This offers several benefits such as better oral hygiene, lowering your risk of developing gum disease while you undergo treatment. For many Invisalign users, perhaps the best advantage of being able to remove the aligners is the ability to continue enjoying the foods they love best. Braces come with restrictions regarding which foods can be eaten, but there is no such limitation with Invisalign. Just be sure to rinse your mouth and brush your teeth before replacing your Invisalign trays.
Minimal Maintenance
Food can get trapped in your braces, but that is not a problem with Invisalign, since the aligners are removable. They also require relatively little maintenance. They can be cleaned by gently brushing them with toothpaste and warm water.
May Prove Faster Than Braces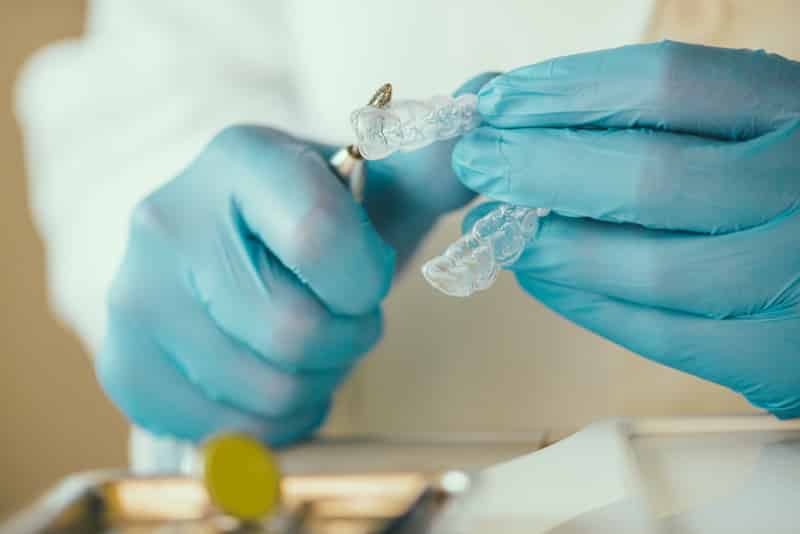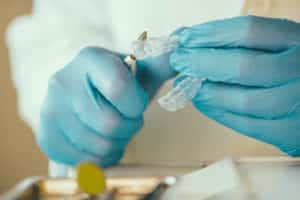 While cases vary depending on the individual's needs, Invisalign typically works faster than traditional braces. This is because the one-piece aligners can adjust teeth as a whole rather than moving each tooth individually like braces do.
Invisalign is an excellent option for many with crooked or crowded teeth, but there are some cons as well. For example, if you tend to be forgetful, you may lose or forget to replace your aligners after removing them to eat at a restaurant. They may also not be suitable for severe cases. Consulting with your dental professional will help you determine if Invisalign is right for you.
For more information about Invisalign and other treatment options, contact us today!
Clear Aligners (ClearCorrect / Invisalign) FAQ
HOW DO CLEAR ALIGNERS WORK?
During the course of treatment, the patient is given a series of clear trays that fit over the teeth, each set of trays makes a slight adjustment to the position of the teeth until the desired result is achieved.
HOW LONG DOES THE PROCESS TAKE?
The length of treatment varies from patient to patient, but the average treatment length is approximately 12 months for adults.
WHAT HAPPENS AFTER TREATMENT?
Some patients are recommended to wear a retainer after orthodontic treatment to ensure that teeth don't return to their original position over time. Patients will need to consult with their dentist to determine if a retainer is required.
Pier Dental Centre Is Happy To Offer Consultations On Any Dental Concerns You May Have