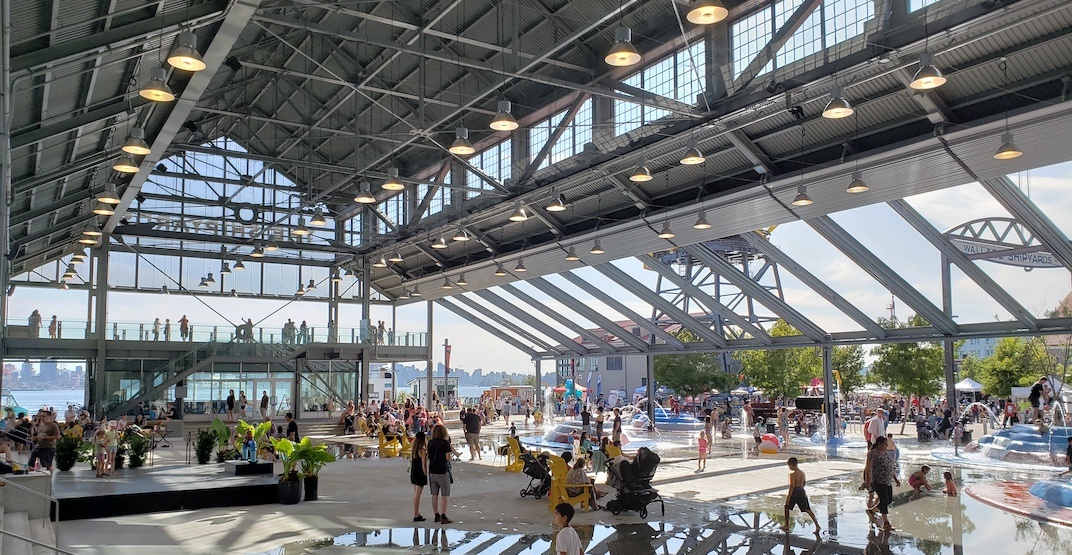 The Shipyards is a vibrant and historic waterfront community in North Vancouver. It was once a bustling shipbuilding center in the 1940s and has since been transformed into a vibrant community space with a variety of amenities that local soften flock to enjoy.
One of the main attractions at the Shipyards is the outdoor skating rink. With its picturesque backdrop of the North Shore mountains and the Burrard Inlet, it's no wonder that this rink has become a popular destination for ice skaters of all ages and skill levels. During the winter months, the rink is open for public skating and even offers skate rentals. And when the weather warms up, the rink transforms into an open-air plaza, perfect for hosting outdoor concerts, markets, and events.
More Offerings
Aside from the skating rink, the Shipyards is also home to a variety of local businesses and artisanal vendors. The Friday Night Market is a popular event during the summer months, featuring local food trucks, craft vendors, and live entertainment. And for those who are looking for a more relaxed experience, there are plenty of waterfront patios and restaurants to choose from. The Shipyards is also a great starting point for exploring the North Shore, with easy access to nearby trails and outdoor recreation activities.
Overall, the Shipyards is a worthwhile destination for anyone looking to experience the unique blend of history and modernity that Vancouver has to offer. With its breathtaking waterfront views, fun community spirit, and a variety of activities and amenities, it's the perfect place to spend an afternoon with friends or family. Be sure to add the Shipyards to your list of must-see destinations in Vancouver.
Want to learn more about North Vancouver? Click here to learn about Mahon Park, another popular local landmark!
About Pier Dental Center
Pier Dental Center provides comprehensive dental services in a caring and gentle atmosphere. Located in picturesque North Vancouver, our team welcomes all guests with a warm smile and individualized service. We look forward to helping you and your family get the smiles you've always wanted! Contact us to learn more about our North Vancouver dental services.
The Shipyards Information
Address: 125 Victory Ship Way, North Vancouver, BC V7L 0B3, Canada
Hours: Open 24 hours · More hours