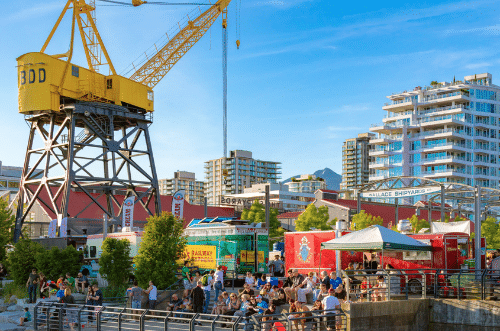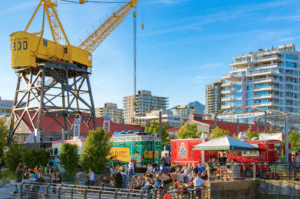 Lower Lonsdale is a vibrant and diverse neighborhood located in the city of North Vancouver, British Columbia. It's situated in the southern part of the city, just across the Burrard Inlet from downtown Vancouver. The neighborhood is known for its ideal views of the city skyline and water, as well as its mix of residential and commercial areas. With its convenient location and many amenities, Lower Lonsdale is a sought-after destination for both tourists and locals.
Things to Do
One of the main attractions of Lower Lonsdale is the Lonsdale Quay, a bustling marketplace that offers a wide range of shops, restaurants, and entertainment options. Visitors can stroll along the waterfront promenade and enjoy the scenic views, or stop by the many food vendors to try out some local specialities. The quay also features a large indoor market with over 80 vendors selling everything from fresh produce to artisanal crafts.
Arts and Culture
In addition to the quay, Lower Lonsdale has a thriving arts and culture scene. The area is home to several galleries and studios, showcasing the works of local artists and artisans. The Polygon Gallery, located on the waterfront, features contemporary photography and media art exhibitions, while the Presentation House Theatre hosts a variety of performances throughout the year. The neighborhood also hosts several festivals and events, including the Shipyards Night Market and the Car Free Day Festival, which bring together the community for food, music, and entertainment.
Lower Lonsdale has a ton of areas to spend outdoors. The area has several parks and green spaces, including Waterfront Park, which offers stunning views of downtown Vancouver, and Victoria Park, a lush green space with a playground and picnic areas. The neighborhood is also home to the North Vancouver Shipyards, which has been transformed into a lively public space with a large outdoor stage, water features, and a beer garden. With its stunning views, cultural attractions, and outdoor activities, Lower Lonsdale is a must-visit destination for anyone exploring the North Vancouver area.
Want to learn more about North Vancouver? Check out Keith-Lynn, another neighborhood in the area.
About Pier Dental Center
Pier Dental Center provides comprehensive dental services in a caring and gentle atmosphere. Located in picturesque North Vancouver, our team welcomes all guests with a warm smile and individualized service. We look forward to helping you and your family get the smiles you've always wanted! Contact us to learn more about our North Vancouver dental services.