What to look for in a Pediatric Dentist
When it comes to yours and your family's health, you wouldn't choose just any old doctor. Likewise, your family's dental care requires the same level of consideration. It has been shown that dental health has a considerable impact on our overall health. While some may be willing to simply grab an appointment with the first dentist they come across, it is important that you find the right pediatric dentist when it involves the needs of your entire family, especially if you are hoping to improve the dental health of your children.
If you are on the lookout for a new pediatric dentist, here are some points that you should keep in mind.
Qualifications and Experience
One of the first things that you will probably want to know is what sort of qualifications does the pediatric dentist have. While this is certainly a worthy consideration, qualifications alone don't mean much if they aren't backed up by a wealth of experience. When you are looking for the best dental care possible, you want to choose a dentist with both the qualifications and the testimonials that confirm their experience.
There are a variety of different specialties available to dentists, so be sure to look for one that specializes in dental care for all ages. You may initially feel awkward asking questions of this nature, but don't be shy; the dental team should be more than willing to share information with you and answer your questions to put your mind at ease.
What Kind of Reviews Have They Received?
In the past it was common to rely on word-of-mouth referrals to know whether services were any good. Today, virtually anything can be found online, including business reviews. For many, Google reviews are as trustworthy as personal references. This can be extremely useful, especially if your need for a dentist arises from moving to a new area where you don't know anyone.
To see some reviews, simply go to Google and search "general dentistry near me" (or by area) and you should receive several listings for local dentists complete with available reviews for your review. You may also wish to check their Facebook page reviews as well.
What Services Do They Offer?
Don't assume that every dentist offers more services than general dentistry. Although any dentist can offer you the basic services, you are looking for someone who will be able to meet all your family's needs for years to come and that may include emergency services, teeth whitening, and more.
Having your dentist be able to handle all your needs allows for excellent continuity of care and can make things easier for younger patients who may be nervous if confronted by a new and unknown dental professional once they have become accustomed to their regular dentist.
Does Their Dental Office Have a Welcoming, Comfortable Environment?
This one may be a bit tricky to judge, especially on first view. That said, you can generally trust your instincts if you feel that there is something wrong or are at all uneasy, it is worth investigating why.
Many people feel somewhat nervous when visiting the dentist, whether young or old. They may have had unpleasant experiences in the past, or they may be worried about that unexplained pain they are feeling in their mouth. Or maybe they are afraid of needles.
Some dental offices come across as cold and clinical, which may not put you at ease. An office that is warm and cheery, with brighter colours, is an atmosphere that can relieve anxiety, especially among children. This is more than a function of just the décor. But are the staff friendly and personable? Do they engage with you and seem genuinely happy where they are?
Feeling welcome and legitimately cared for means your visits will be less stressful, which benefits young and old alike and sets your kids up for a lifelong relationship with their dental care team.
Location and Accessibility
Having your dentist situated close to your home is always preferable, but you will probably want to maintain a degree of flexibility. If the dentist with whom you feel more comfortable is a little further away, that may be a trade-off to get the service you want. On the other hand, travel may be difficult for children or older patients, particularly in the winter months, so this is an important consideration when making your choice.
Aside from the location, how accessible is the site? Is there sufficient parking? Is there access for those in wheelchairs? If the dentist's office is on the second floor or above, is there an elevator available for those who would have difficulty with the stairs?
Equipment and Technology
Has the dentist invested in the kind of advanced technology that can improve your experience as a patient? You may wish to visit their location to inform yourself or may even be able to find such information on their website.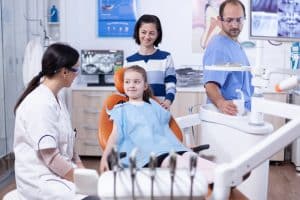 Are They Proactive?
It is always better to take preventative measures than to react to issues as they arise – it is much better to prevent a cavity than treat it when one forms. Given that children are more susceptible to tooth decay than adults, you will want a dentist who is experienced with the needs of children and who can spot problems in their earliest stages.
A highly beneficial treatment for children is the use of a dental sealant. This is a thin coating painted over the surface of the tooth. It forms a shield that protects the tooth's enamel. Even children with excellent brushing habits can benefit from this, as their baby teeth have tiny grooves that make it difficult to keep them clean. The sealant protects these grooves.
Fluoride treatments are another approach that most patients are familiar with. Fluoride helps teeth become more resistant to decay and can also repair small areas of decay before they grow into larger cavities.
How Do They Treat Their Clients?
While you already have some idea of this based on reviews, personal observation is also extremely valuable. Reviews are a guide, but remember that those you find on a dentist's site are chosen for being positive and some of the negative reviews that you see elsewhere may not tell the full story.
You will want a dental team that sees you as more than just another patient. Finding one that treats you and your children like friends or family will put your mind at ease knowing that they are giving you the best possible care.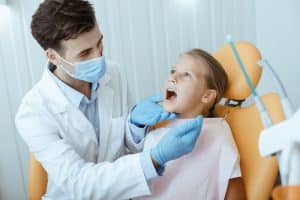 Final Thoughts on Finding Your Pediatric Dentist
Choosing a pediatric dentist is a decision that requires some research and careful consideration given the impact your choice may have on the health, dental and otherwise, of you and your family. You do your part to maintain your oral health with good brushing habits and flossing, but your care routine isn't complete without regular dental examinations.
Take time to make the right choice and you will have a dentist—and a bright smile—for a lifetime.
Pier Dental Centre in North Vancouver
As a North Vancouver Family Dentist, their General Dental practice provides all aspects of pediatric dentistry to their patients.
The Pier Dental Centre team cares about dentistry and will provide you with the dental health care for your family.  Our North Vancouver Pediatric Dentists believe treating each patient with the additional attention they need in order to have a beautiful and healthy smile.
Pier Dental Centre accept patients of all ages and enjoys hosting a friendly, warm and comfortable environment, especially for their new young patients. Pier Dental Centre's family dentists believes that proper care can make the a first time dentist visit an enjoyable experience. We educate your children about the importance of lifelong oral care through humour, patience, and lots of smiles!  We recommend your child's first dentist visit at the age of one. This way, we will create a lifelong habit of superb oral hygiene.  We also offer same day scheduling for your family. Make your  appointments for everyone in your family in the same day to save yourself time.
We are located at 136 Esplanade E, North Vancouver, BC. Call 604-986-9161 to speak with us or Book and Appointment here.