Do you need a Dental Bridges?
A dental bridge is an excellent option when you have one or more missing teeth. As the name implies, a dental bridge fills in or "bridges" the gap between the teeth, but how do you know if dental bridges are right for you?
Types of Dental Bridges
There are four types of bridges. The one used will depend on your situation:
Traditional dental bridges are made up of one or more false teeth held in place by dental crowns cemented onto abutment (support) teeth. This is the most popular type of dental bridge and may be used when you have natural teeth on either side of the space where the bridge will lie.
Maryland dental bridges are similar to traditional bridges in that they are held in place by two natural abutment teeth, one on either side of the missing tooth gap. The difference is that while a traditional bridge uses dental crowns on the abutment teeth, the Maryland bridge relies on a metal or porcelain framework bonded to the backs of the abutment teeth. Like the traditional bridge, Maryland bridges require a natural tooth on either side of the gap.
Cantilever dental bridges are also similar to the traditional kind, but they are held in place by a single crown cemented to one abutment tooth. This means that you only need a single natural tooth next to the gap.
Implant-supported dental bridges use implants to hold them in place, rather than crowns. Typically, there is one implant per missing tooth, though if this is not possible, a pontic (artificial tooth) may be supported between two crowns supported by implants.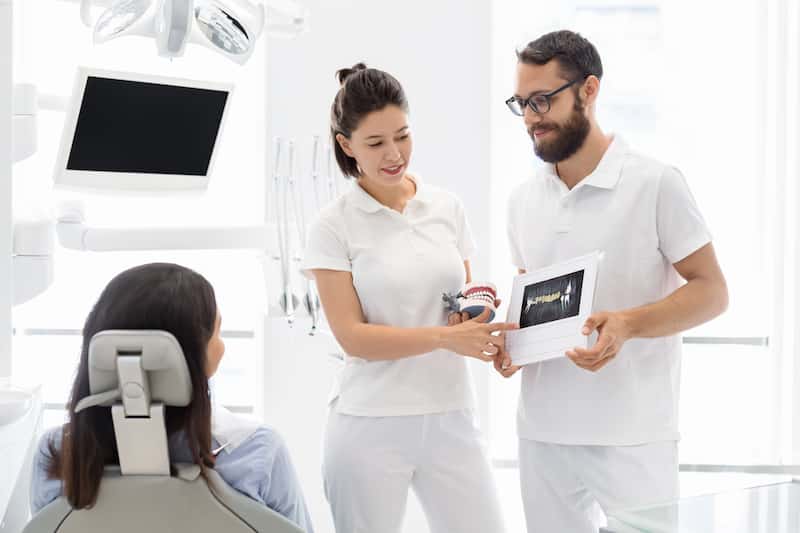 Will a Bridge Last a Lifetime?
How long a bridge lasts is largely dependent on your oral care routine, lifestyle, and diet. While dental bridges last an average of 5-10 years, they can last considerably longer if they are cared for and maintained properly. It is possible for them to last a lifetime with proper oral hygiene and regular visits to a dental professional.
How Much Do Bridges Cost?
Prices will vary depending on the type of bridge needed, the material used, and the number of teeth it is replacing. The strongest and most stable type—the implant-supported bridge—is also the most expensive, reaching as high as $15,000. A traditional or cantilever bridge on the other hand is usually between $1,500 and $2,500. Your dentist can provide you with more information.
Is a Bridge Better Than an Implant?
Both bridges and implants have their pros and cons. Implants, for example, place less of a burden on surrounding teeth and high-quality implants can be expected to last a lifetime. On the other hand, they can be quite expensive, particularly if multiple teeth are involved.
Dental bridges are one of the most cost-effective ways to replace missing teeth. They also don't require bone grafting in the event of bone loss. Receiving your bridge is also a quicker process.
How Many Teeth Can Be In a Bridge?
This is difficult to answer as there are many factors to consider such as your age, bite, and the condition of the neighbouring teeth. For more information on the options available in your particular case, consult with your dentist.
Dental bridges are an excellent, cost-effective means of replacing lost teeth. Fortunately, the North Vancouver dentists at Pier Dental Centre offer a wide range of restorative dentistry procedures to replace missing teeth, including high-quality dental bridges.
If you're not prepared to opt for a dental implant, a dental bridge is an excellent way of replacing your missing tooth. The dental bridge has a long history in modern dentistry, and Dr. Cegielski & Dr. Kherani have experience making sure your procedure goes as smoothly and painlessly as possible.
We'll be happy to speak with you about all your options during your initial consultation. Please call us in North Vancouver at 604-986-9161.